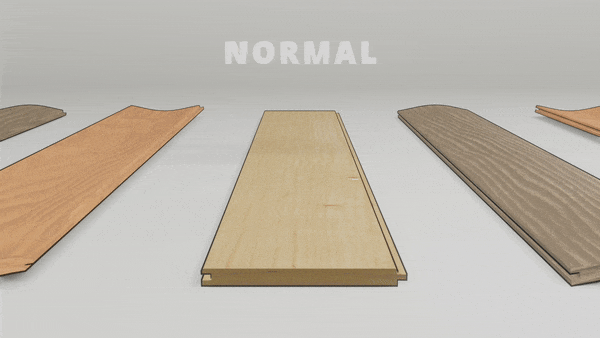 The most popular type of flooring in most homes today is hardwood flooring. Over time, hardwood floors can become damaged from the wear and tear of day-to-day use. If you have damage to your wood flooring, you may be considering replacing it with something new. But before deciding on a replacement option, you might want to consider fixing your existing wood floors instead.
There are two types of hardwood flooring: solid wood and engineered wood. This article will focus on how to fix solid wood floors.
Cupping is a natural occurrence and in most cases, it's simply the result of moisture damage. Many hardwoods are quite porous and will naturally cup when there's water damage. Where we live, in Georgia, the climate is very humid most of the year. This alone can lead to cupping and buckling wood floors.
Find the Source
First, we locate the source of the damage by measuring moisture levels and examining the area for water. Cupping is often caused by moisture seeping underneath the floor.
The moisture content of wood is also significant because it can be a sign of underlying water damage or mold. We use moisture meters to test for the moisture content of the floors. A moisture meter can be used to determine what stage the floor is at if there might be a nearby leak or any potential for mold growth.
In general, drying out wet and water-damaged floors takes time to do right. We do this by using industrial dehumidifiers and air movers. If you live in an area that experiences high humidity levels, like Georgia, you may want to invest in a dehumidifier. Even a good consumer dehumidifier can help prevent or even fix some water damage.
Fixing the Problem
We begin correcting the problem once we've identified the source. This procedure begins by removing all contents from the affected area. Then we begin drying. To dry a floor completely can take anywhere from a few hours to a week or more, depending on the extent of the damage and size of the affected area. We place fans and air movers throughout the area. To speed up drying, high-powered industrial dehumidifiers are also used. In some cases, we use an Injectidry vacuum drying unit. This reduces the time it takes to dry particularly difficult areas of your floor.
The industrial dehumidifiers we use draw the moisture out from the floor at a controlled speed and temperature. Dehumidifiers are mainly used in places where there is a lot of water damage, like in basements or garages with flooding or leakages, as well as in places where there are high humidity levels. We also place air movers (powerful commercial fans) throughout the damaged area to increase drying and better control the environment's humidity levels. It's important to take caution when drying it out because these types of floors can crack easily if dried too fast.
If it's found that the moisture problem penetrates deep enough through the floors we may need to remove boards to check the subfloor for buckling, cupping, or other signs of moisture. This is especially true for older homes that may have had wood subfloors that were never sealed properly.
Inspection and Restoration
After everything is dry we begin the repair and restoration of the floors. Many times, all that's needed is drying to restore cupped floors. However, sometimes the floors need to be sanded and refinished. This is the same procedure used when your floors were originally installed. Hardwood floors can be sanded and refinished several times over the course of their life. Sometimes, after sanding heavily cupped floors, we may also use a leveler or sealant to further protect them against more damage in the future.
We're Here to Help
Floor damage can be expensive, time-consuming, and stressful for a homeowner to deal with. We're on call 24/7 to help with any kind of floor damage, whether it's water, fire, or mold. We help our customers know how to effectively negotiate with their insurance company to make sure everything is taken care of!
We offer a variety of services to help restore your home or residential property. We dry wet hardwood floors, dry out basements, crawlspaces, furnaces, attics, or other areas. We also have expertise in water damage restoration and cleanup.
Contact us to learn more about our services or to schedule an appointment!